Handbook on Dispersal
The pedagogical contents and practical exercises in this manual were developed by the project "Germinar um banco de sementes", whose central focus was creating a seed bank to promote its use, exchange and conservation.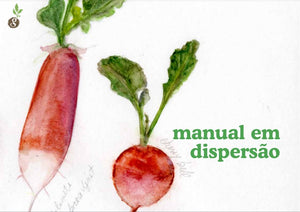 ABOUT THE PROJECT
This project aims to create a seed bank involving the school community.

Learn more
ACTIVITIES
From formation to seed growth, everything that goes into the project.
Learn more
LATEST NEWS
The "Sprouting a Seed Bank" project expands to Romania with European funding through the Erasmus+ programme.
In a significant development, the "Sprouting a Seed Bank" project secured funding from the Erasmus+ programme at the beginning of October, allowing it to replicate its success in Romanian schools. Erasmus+ is a European initiative supporting education, training, youth and sport. The 2021-2027 edition of the programme emphasises social inclusion, green and digital transitions and promoting young people's involvement in democratic life. It is aligned with the European Education Area, the Digital Education Action Plan and the Skills Agenda for Europe.
The project is structured around several key activities:
In Schools: This involves fortnightly training and awareness-raising activities for eight classes of 2nd and 6th graders and teachers from four schools. These activities are practically orientated, providing students with valuable tools. In Romanian schools, the project is going further, giving rise to new vegetable gardens that will serve as educational spaces and promote sustainability.
From schools to the community: The initiative organises ethnobotanical tours and open days in schools, promoting community involvement and education.
From the local to the national level: The project has a "seed archive", facilitating the free sharing of seeds to stimulate the dissemination of seeds and awaken the community to preserve genetic diversity in our ecosystem. It will soon also be available in Romania with its seeds.


DONATE SEEDS
Sharing seeds is a common practice in sustainable agriculture.
Learn more
During three mornings, this partnership allowed us to interact with about 300 students from 11 classes from the Padre Bartolomeu de Gusmão Group of Schools (Lisbon). Once again, we hope to have left the seed of conservation.

Dulce Freire, Reseed Project
When this project on environmental education was presented to us, we wanted to take advantage of the opportunity. It is "contaminating" the school, the students, the teachers and the school community. I believe in the future, the seeds that this team has planted will germinate throughout the school.

Jorge Nascimento, director of the Padre Bartolomeu de Gusmão Schools Group
Martim adores the project so much he asked to sow in this confinement phase. We are sowing coriander, parsley and also peas

Martim Silva's mother, 2nd B student