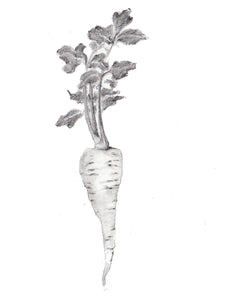 Scientific name: Parsnip sativa.
Common name: Parsnip, cherovia, cherivia, cruruvia, field celery.
General description: It is a wild plant with a stem that is branched, hollow and sugary, which can reach 1 meter high and is quite robust, and can be cultivated in different climates.
Originally from Mediterranean Europe and southern Asia, the parsnip was eaten by the Greeks and Romans. Before the introduction of the potato, it was a staple food of the population. In the 17th century, it was introduced to the United States, with little success, being considered toxic and invasive. In Europe, it was used as a sweetener before the arrival of sugar cane.
Nutritional facts: Contains small amounts of iron and vitamin C. Particularly rich in potassium and an excellent source of fiber.
GROWING CONDITIONS

Climate: Humid temperate or subtropical.
Soil: Loamy, sandy-sandy or sandy-clayey, deep, cool, and rich in humus. The ideal pH is 6.0-7.0.
Watering: Regular. Soil moisture should be maintained.
Associations: Radish, Horseradish, Leek, Garlic, Onion.
Sowing Season: From February to June.
Harvest time: From June to November.