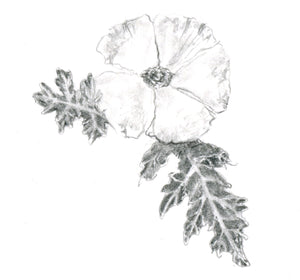 Scientific name: Argemone polyanthemos
Common name: Poppy, Spiky Poppy
General description: Native plant of North America, of the poppy family, it gets its name from the Greek Argemone, which means ocular cataracts, because it was believed that the plant could remedy them.
Polyanthemos means multiple flowers, which in addition to the thorny stems and the other parts of the plant, are also poisonous, and for this reason, proliferate easily in free grazing areas, as even herbivorous animals tend to avoid it.
It is a good plant for phytoremediation as it absorbs toxic substances from the environment, such as herbicides, and air and soil pollutants. It is great for attracting bees because of its large number of flowers and long flowering period.
We have the following varieties:
- 'Spiny' poppy, long flowering period with white flowers and spiny stems. All parts of the plant are poisonous. Is good for phytoremediation because it absorbs toxic substances from the environment.
- 'Red' poppy, an annual plant that can reach 70 cm in height, can be found wild on agricultural land.
- 'California Orange' poppy, a hardy annual plant that can flower for two months, is ideal for attracting bees.
GROWING CONDITIONS
Climate: Arid on sites with direct sun.
Soil: Not very fertile and well-drained, sandy or rocky.
Watering: The plant is used to low to medium humidity and therefore requires little watering.
Sowing time: End of winter.
Blooming season: Between June and August